Ben Troupe, An Uncommon Example.
Ben Troupe's "uncommon" story is one shaped by his own experiences.
An ever-evolving journey has helped Ben reach far and wide and, critically, reach out to others along the way. A Swainsboro, Georgia-native who also calls Augusta home, Ben is a tireless advocate and volunteer, standing tall, at 6'5'', for all people in need. Ben believes in expanding perspectives through exposure. He lives his life with a "least among us" mentality, focusing on improvement for any and all. Ben's passion is people. His "uncommon" charge is to challenge young adults to fearlessly chase their full potential; not just to see the world, but to change it as well. Greatness, in whatever form it comes, is the goal.
"I am giving them what I needed." -- Ben Troupe
The UnCommon Cru Mission: Finding a way to get in the way!
What does that mean? The UnCommon Cru is creating a bridge for underserved high school boys to develop academically, professionally, personally, and culturally by providing them with culturally enriched exposure trips that include colleges and universities, fortune 500 companies, and other organizations. Furthermore, we will help them build their soft skills through professional development workshops and a myriad of team building activities.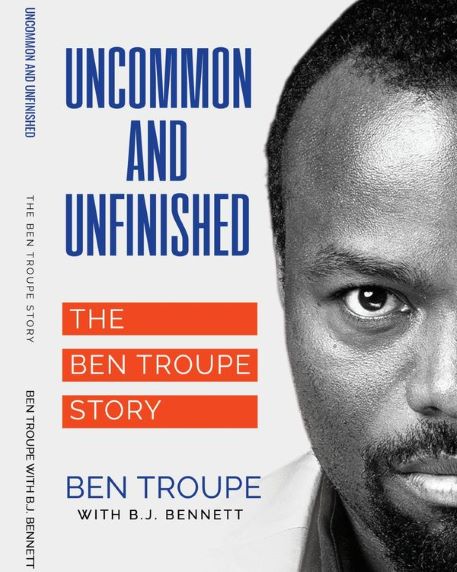 Recently Ben completed his second book, Uncommon and Unfinished, The Ben Troupe Story.
"Uncommon and Unfinished" takes readers on a personal journey through the trials and tribulations that have both changed Ben and helped Ben change the world. From sunsets on the porch in small southern towns to bright stadium lights on the biggest stages in sports, this is a story of growth. "Uncommon and Unfinished" is a testament to Ben's timeline. Every step that Ben has taken, yards included, has been made with family and friends right alongside. This is a man who has made moves with a purpose; just now is he hitting his stride. "Uncommon and Unfinished" is the portrait beyond the player, a first-team All-American, Florida-Georgia Hall of Famer and second round NFL Draft pick. Though many of Ben's highlights are quite memorable, his experiences are truly unforgettable. Many watched Ben Troupe play football; "Uncommon and Unfinished" is a chance to now know him.
Source: Publisher
This book is worth the read and highly recommended. To get your copy visit https://bentroupe84.com/